What is our added value and where do we want the initiative to be recognized for?
This initiative makes the difference by speaking in the name of the whole Healthcare Environmental Hygiene sector. It will be recognized for its key stakeholders, its experience and the science-based and transdisciplinary integrative approach used.
What does this Day means?
This initiative is created to raise awareness of the importance of healthcare environmental hygiene, this means knowledge raising. It is also a call to join Clean Hospitals in celebrating and empowering healthcare workers.
How Can YOU involve in the FIRST Clean Hospitals Day ?
Follow the Clean Hospitals social media accounts
Spread the word in your network whith the #CleanHospitalsDay. The objective is that everybody knows about the Clean Hospitals initiative.
Participate in the Clean Hospitals Day teleclass on the 20th of October and understand why environmental hygiene is so key for preventing outbreaks, healthcare-associated infections, protecting patients and staff and the larger environment.
DOWNLAOD THE CLEAN HOSPITALS DAY PRESENTATION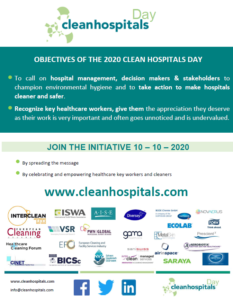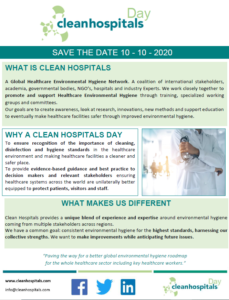 For more information : info@cleanhospitals.com